scroll for the Space
~
MORE ~
Explore S.
→ Story You're Creating or Missing . . .
Your Space here :
374
people 👁️ing this randomly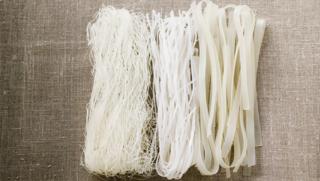 Rice vermicelli are thin, long form noodles made from rice grains (not to be confused with cellophane noodles, made from vegetable starch). Commonly used in Asian soups, salads and stir-fries, they are probably most notable in Singapore-style noodles.
Lai fun are a short and thick rice noodle often used in soups.
Ho fun (or he fun) are very wide and flat rice noodles often stir-fried with soy sauce or used in soups.
*Anyone can

Edit/Enhance

this open Space.
---
*We never ask, store or use your personal data - feel free to use our universal open profile Szen(s.user)

during Entry and Publish/Edit any Story/Space

.
---
Tap :

Entry


Login:

s.user


Password:

s.321
---
---
*If You're not ok with openness, you may try our this private/personal platform:
Or You May Use Both openspace and personalspace Simultaneously.
---