scroll for the Space
~
MORE ~
Explore S.
→ Story You're Creating or Missing . . .
Your Space here :
214
people 👁️ing this randomly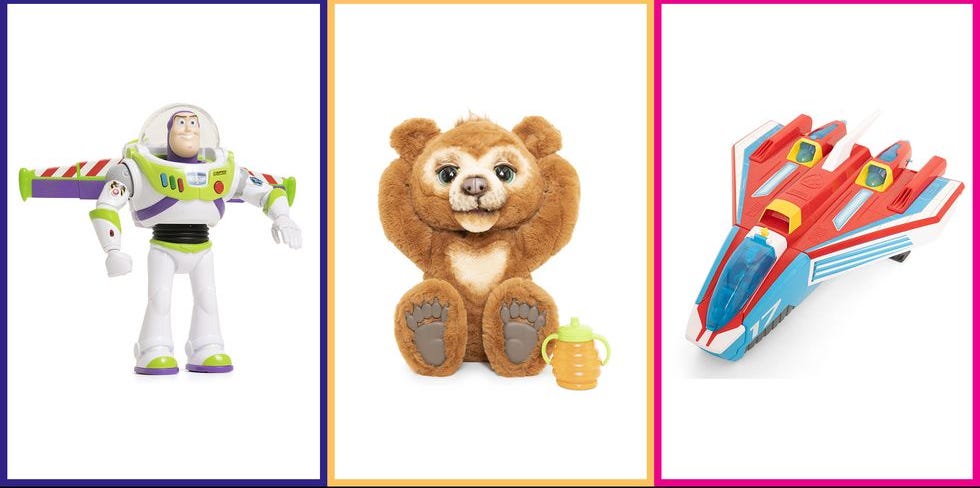 Hearst
Argos has announced its highly-anticipated list of the most popular toys to buy children this Christmas.
The retailer claims the llama is set to usurp the unicorn in the Christmas toy stakes for 2019, with Boppi 'The Booty Shakin' Llama predicted to be popular in letters to Santa
TV, movie and video gaming franchises are also set to be a big influence on toys this Christmas. Juliet Ward, Head of Toy Buying at Argos, said: "Digital entertainment is influencing play more than ever before with popular franchises inspiring toys like the Fisher Price Imaginext Transforming Batmobile and 7" Real Walking Buzz. It's really exciting to see online video gaming entering the toybox with the Fortnite Battle Bus allowing children to recreate what they see on screen in real-life at home."
"It's no secret that children love animals and so they continue to heavily influence toy innovations, such as the Cubby Bear and Owleez. And kids and big kids alike won't be able to resist the delightful Boppi – the world's first booty shakin' llama. There are also some really quirky innovations on the list this year, such as the collectable Blume Dolls, which magically sprout out of their flower pots when sprinkled with water."
Browse the top 12 toys for Christmas 2019…
Pets Alive Robotic Llama – Boppi, 'The Booty Shakin' Llama
BUY NOW £25
If twerking's your thing, this booty shakin' llama will get the whole family dancing and laughing along.
We earn a commission for products purchased through some links in this article.
1 of 12
Blume Doll
BUY NOW £10
Just add water and a doll will appear before your very eyes. There are 22 dolls to collect with mix and match hairstyles. Perfect as a stocking filler!
2 of 12
Real Walking Buzz Lightyear
BUY NOW £30
With Toy Story 4 released in the cinemas this year, spin off toys of the classic movie franchise are bound to be big. And Argos predicts this walking, talking Buzz Lightyear will be a hit this Christmas.
3 of 12
Fortnite Battle Bus
BUY NOW £40
Get your little Fortnite player off the screen and playing make believe with this toy battle bus – great for storing and displaying Fortnite figures.
4 of 12
Furreal Cubby Bear
BUY NOW £80
Up your child's teddy bear game with cubby, who you can feed, hug (he hugs back), play peek-a-boo and much more. In nighttime mode her makes sleepy sounds and plays soft music, making him the ultimate cuddly BFF.
5 of 12
Lego Harry Potter Knight Bus
BUY NOW £35
Perfect for fans of Lego and Harry Potter, this bus has an opening side panel, removable roof and comes with three mini figures – Harry Potter, Stan Shunpike and Ernie Prang.
6 of 12
Owleez
BUY NOW £50
This virtual pet owl is full of responses as you care for it and even teach it to fly. It has over 100 sounds and movements, responding to touch and even changing eye colour depending on mood.
7 of 12
LOL Surprise 2-in-1 Glamper
BUY NOW £100
For fans of LOL Surprise this is the ultimate Christmas present. With more than 55 surprises to unbox, 10 hangout areas and an exclusive doll. With a DJ booth, water slide, light-up pool and runway it'll provide hours of make believe fun.
8 of 12
Paw Patrol Mighty Pups Super Paw Jet
BUY NOW £60
Fans of Paw Patrol will be ready for their next mission with this 2-in-1 vehicle that transforms from a jet to a mobile command centre. It comes with a mini ryder figure but you'll have to buy the pups separate.
9 of 12
Kindi Kids Toddler Doll
BUY NOW £25
These bright, big eyed dolls are bound to be a hit with pre-schoolers. There are four of these 10-inch dolls in the range, each coming with their own Shopkin accessories.
10 of 12
Fisher Price Imaginext Transforming Batmobile
BUY NOW £100
This remote control batmobile can be zoomed and spun around when Batman spots trouble in Gotham City. Kids can turn the 'Power Pad' to transform into battle mode with lights, sound effects and projectiles.
11 of 12
Peppa Pig Playset
BUY NOW £40
Reenact your favourite Peppa Pig episode with this cool stage set that comes with plenty of props as well as Peppa and George figures.
12 of 12
*Anyone can

Edit/Enhance

this open Space.
---
*We never ask, store or use your personal data - feel free to use our universal open profile Szen(s.user)

during Entry and Publish/Edit any Story/Space

.
---
Tap :

Entry


Login:

s.user


Password:

s.321
---
---
*If You're not ok with openness, you may try our this private/personal platform:
Or You May Use Both openspace and personalspace Simultaneously.
---